What sets this app apart are
its distinctive features!
User Registration and Profiles
Allow users to create profiles with personal information, interests, and preferences, making it easier to tailor event recommendations.
Event Discovery
Provide a user-friendly interface with event listings, categories, and filters to help users discover events based on location, date, and interest.
Event Details
Offer detailed event pages with information such as event description, date, time, venue, ticket prices, performers, and speakers.
Event Reminders and Notifications
Send event reminders, notifications for ticket availability, and updates about changes to the event schedule.
Event Marketing
Allow event organizers to promote their events through the app using targeted marketing and advertising tools.
Accessibility Features
Ensure that the app is accessible to users with disabilities by implementing features like screen readers and voice commands.
Booking Confirmation and E-Tickets
Provide users with booking confirmations and e-tickets that can be stored and accessed within the app.
Event Check-In
Include a feature for event organizers to scan e-tickets or QR codes for easy and efficient event check-in.
Personalized Recommendations
Use machine learning algorithms to provide personalized event recommendations based on user preferences, previous bookings, and behavior.
Event Calendar
Integrate an event calendar that displays users' booked events and reminders, helping them keep track of their plans.
Social Sharing
Allow users to share event details, ticket purchases, and RSVPs with friends and followers on social media.
Event Management
Offer event organizers a dashboard to create, manage, and promote their events, including options for setting ticket prices and quotas.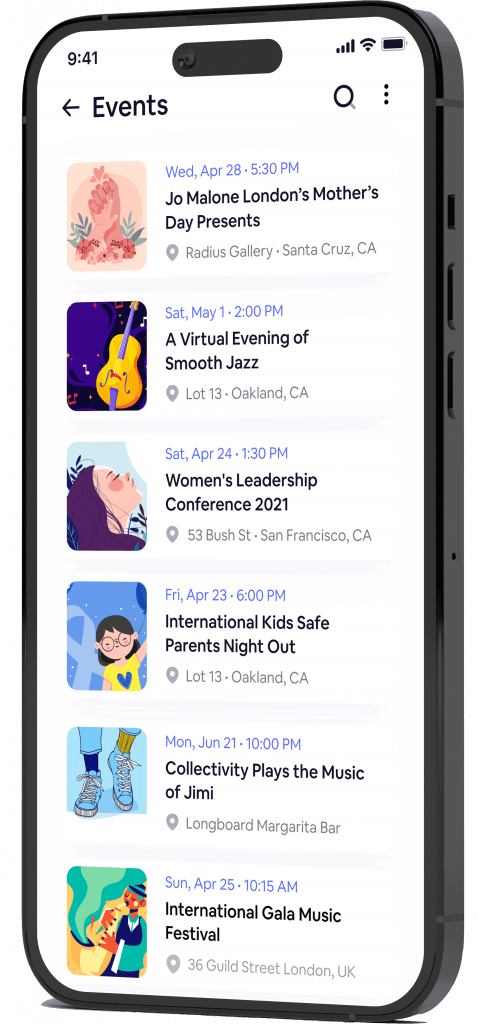 Seat Maps
Display interactive seat maps for venues with assigned seating, allowing users to choose their seats during the booking process.
Ticket Booking
Enable users to book event tickets directly through the app, with options for selecting seating preferences and ticket quantities.
Payment Processing
Integrate secure payment processing systems, including credit/debit cards, mobile wallets, and other payment options.
Event Sharing and Collaborative Planning
Enable users to create shared event lists, plan group attendance, and invite friends to events.
Ratings and Reviews
Enable users to rate and review events they've attended, helping others make informed decisions.
Privacy and Data Security
Implement strong data privacy and security measures to protect user information, payment details, and event history.

Note: One week consists of 5 working days for development purposes.
40 Hours / Per Month = 800 USD.

80 Hours / Per Month = 1500 USD.

160 Hours / Per Month = 2500 USD.
Aesthetic, intuitive, and functional interfaces enhance user experiences and ease task completion.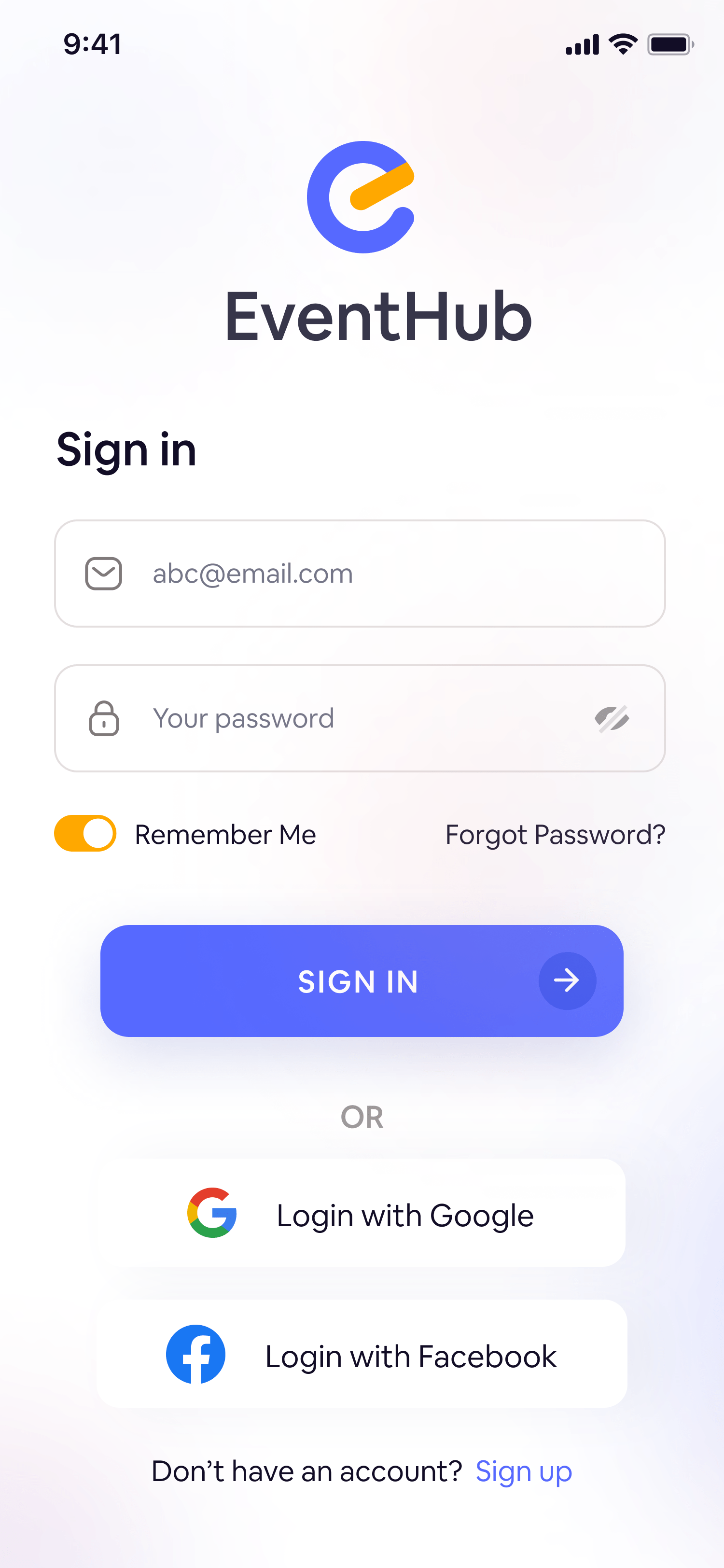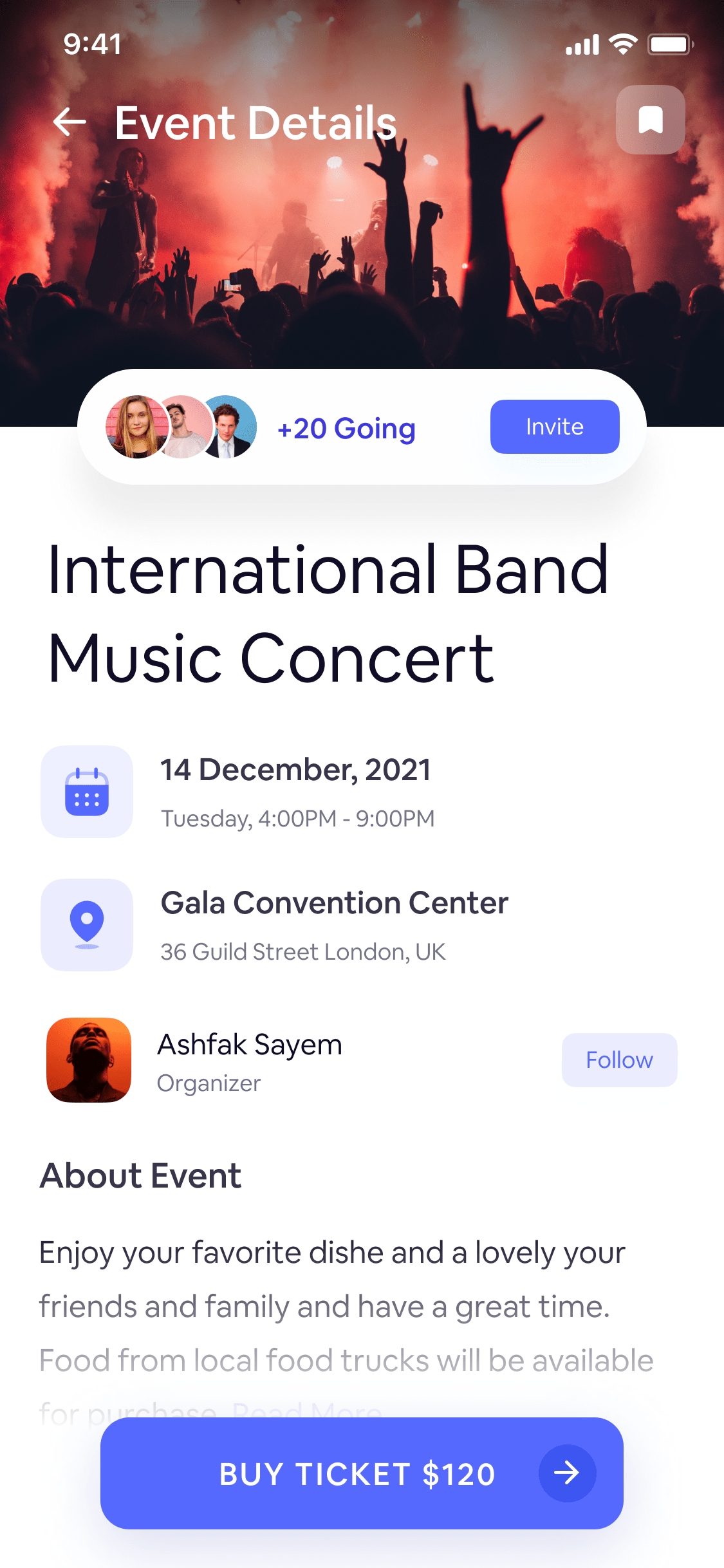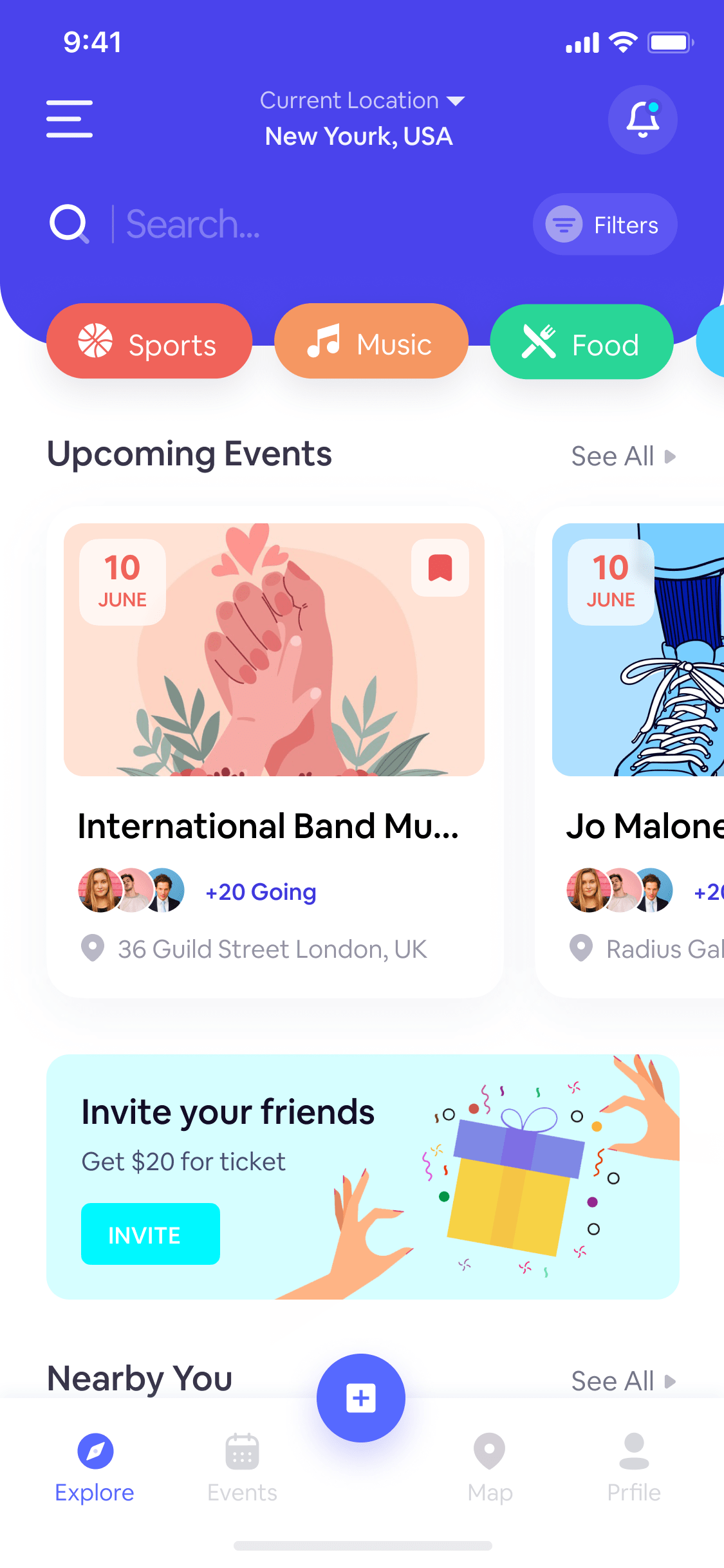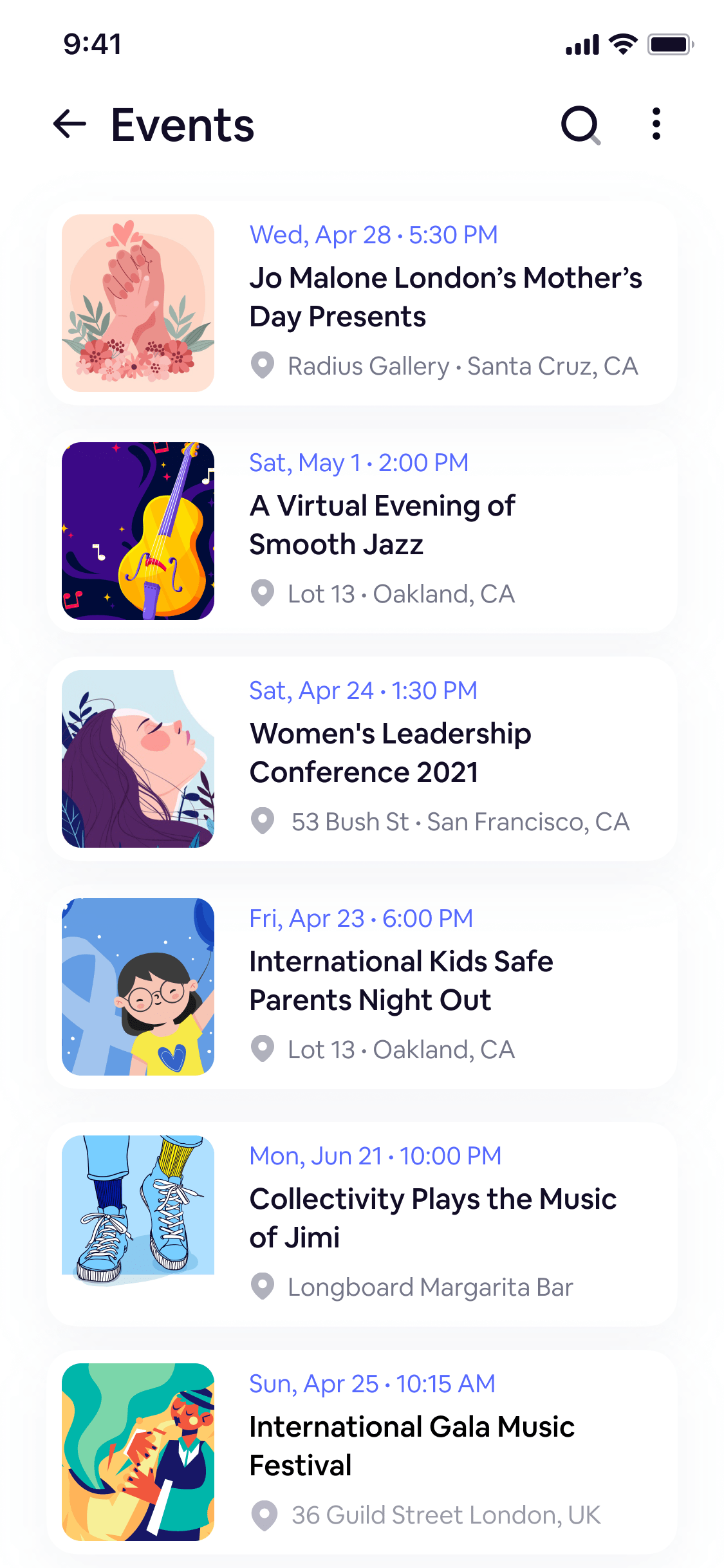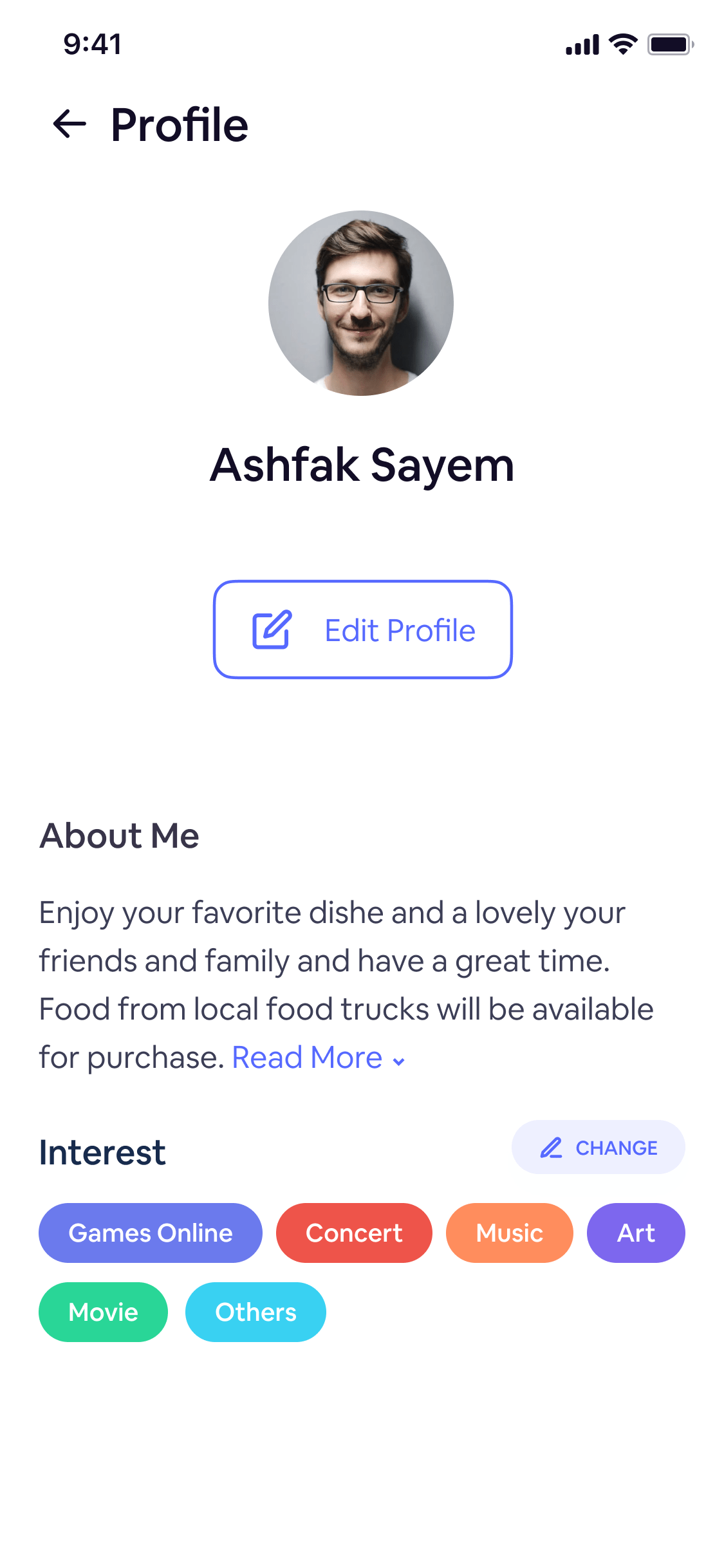 Frequently Asked Questions
FAQs provide quick and easy answers to common inquiries,
reducing the need for additional customer support.
How can I create a profile on the Event Booking Application?
To create a profile, simply click on the registration option and provide your personal information, interests, and preferences.
How do I discover events that match my interests and location?
You can explore events by using our user-friendly interface with filters for location, date, and interest categories.
Can I see detailed event information before booking tickets?
Yes, you can view event details, including descriptions, dates, times, venues, performers, and ticket prices on each event's page.
How do I book tickets for an event through the app?
Booking tickets is easy; select your event, choose your seats (if applicable), and proceed with secure payment processing.
Are there interactive seat maps for venues with assigned seating?
Yes, we provide interactive seat maps, allowing you to choose your preferred seats during the booking process.
What payment options are available for ticket booking?
We offer various payment methods, including credit/debit cards, mobile wallets, and more, ensuring secure transactions.
Will I receive event reminders and notifications?
Absolutely, we send event reminders, ticket availability updates, and event schedule changes via notifications.
How can I access my booking confirmations and e-tickets?
You can easily access your booking confirmations and e-tickets within the app for a hassle-free event check-in.
Ready To Start Your Project
Silverwebbuzz specializes in providing top-notch outcomes, whether it pertains to design, development, support, server management, remote work, or any other aspect. After all, the purpose is to ensure optimal results. Feel free to reach out to us via phone or email, and we would be more than happy to engage in a discussion regarding your needs.